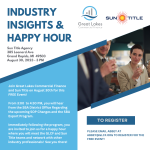 We are excited to extend a special invitation to all commercial lenders and their lending teams to an informative seminar followed by a networking happy hour!
Industry Insights:
During the seminar portion of the event, you will hear from Brian Picarazzi and Romy Ancog from the U.S. Small Business Administration (SBA), alongside our very own in-house SOP guru, Gary Witkowski. Brian and Gary will delve into the changes of SBA's new SOP 50 10 7, set to take effect on August 1, 2023, and Romy will be presenting on SBA's Export Program, highlighting the benefits for borrowers.
This seminar presents a unique opportunity for you to gain a comprehensive understanding of the upcoming changes to the SOP and how they will impact both you and your borrowers. Discover key insights and strategies to navigate the new SOP with confidence and success. Additionally, this is a great opportunity to learn more about the benefits of SBA's Export Program.
Happy Hour:
But that's not all! Following the Seminar, we invite you to the Happy Hour portion of the event, where you can network with other industry professionals. This is also a great opportunity to talk with and get to know Brian and Romy, Sun Title, and the GLCF team!
Don't miss out on this opportunity to gain valuable insights into SBA's flagship programs and expand your network. There is no cost to attend this event, but space is limited, so secure your spot today by registering now. We can't wait to see you there!
Details:
When: August 30, 2023
Where: Sun Tile – 385 Leonard Ave, NE, Grand Rapids, MI 49503
Seminar Time: 3:00 to 4:30 pm
Happy Hour Time – Immediately Following at Same Location
Cost: FREE, But you must register
How to Register: Click HERE to send an email telling us you are coming!