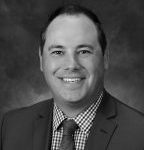 Great Lakes Commercial Finance (GLCF), a leading provider of SBA 504 loans, is pleased to announce the appointment of Tom Sreckovic as the new Commercial Loan Officer responsible for serving Michigan's Southeast side.  He will be working to develop and foster relationships with lenders, small businesses, economic development professionals, and other partners, covering all of Southeast Michigan, including Oakland, Macomb, Wayne, Washtenaw, Monroe, Genessee, and Livingston counties.
Sreckovic graduated from the University of North Carolina – Greensboro with a degree in Business Administration and resides in Rochester with his wife and two children. He brings with him over 15 years of banking experience, with 10 years of commercial lending experience in Southeast Michigan. Sreckovic has worked as a Commercial Loan Officer and Vice President for community banks as well as Midwest regional and commercial banks, all with an emphasis on relationship sales.  Tom, having previously facilitated SBA 504 loans from the banking side, understands what the lenders and borrowers he will now work with are seeking. This insight will assist him in guiding clients more effectively through the process with the support of his new team. He understands the commitment and follow-through necessary to usher deals from initial structuring to funding.
Sreckovic is an active member of his community, having been a member of the local Chambers of Commerce, volunteering his time with Gleaners Food Bank, The Greening of Detroit, and coaching flag football. Tom will be working from his home office in Rochester Hills, which will provide our lending partners with easier access to our services.  He can be reached at (586) 718-6045 and by email at tom@glcf.org.  "I am honored to join the GLCF team and contribute to their legacy of fostering business growth.  The East Side is home to a dynamic business community, and I am excited to work closely with lenders, entrepreneurs, and business owners to provide them with the financial tools they need to succeed," said Tom.
Tom's appointment comes as GLCF continues to expand its presence and offerings in the region. His addition to the team reflects GLCF's commitment to attracting top industry talent and investing in professionals who can drive value for clients and the company alike. "We are absolutely thrilled to welcome Tom to our team as a Loan Officer at GLCF," said Julie Parker, President & CEO. "His addition to our organization strengthens our commitment to providing top-notch service and unparalleled support to small business owners and lenders around the state. With Tom on board, we are confident that the SBA 504 Loan Program will reach new heights of success in the counties he serves, and we look forward to the positive impact he will undoubtedly make."
Great Lakes Commercial Finance is a Certified Development Company (CDC) that was the recent recipient of the CDC of the Year Award by SBA's Michigan District Office.  GLCF seeks to assist the growth of Michigan businesses by providing expertise on loan programs and resources, resulting in business expansion and job creation. By partnering with lenders, GLCF works to help small business owners finance fixed assets through the SBA 504 Loan Program – a loan program that offers a low-down payment and low fixed interest rates for up to 25 years. Founded in 1981, GLCF has over 40 years of experience and expert staff who know how to make the SBA 504 Loan process streamlined, effective, and successful for both the small business in need of financing and the lending institution seeking to minimize loan risk.