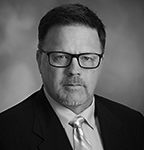 Looking for an experienced SBA 504 Loan Officer? Meet Bradd Pierce.
Since 2010, Bradd Pierce, Senior Loan Officer, has developed relationships and trust with lenders and small business owners throughout Western and Central Michigan. During his tenure, Bradd has funded hundreds of different SBA 504 loan scenarios and has a wide range of diversity in his portfolio. Bradd offers lenders and borrowers 14 years of SBA 504 experience, plus 16 years of commercial lending experience, to his market. This level of expertise is hard to duplicate and ultimately provides lenders and borrowers with a smooth, streamlined process. GLCF is headquartered in West Michigan, where we continue to be the #1 SBA 504 loan provider. Experience Matters!
"West Michigan is a market where I have been an active lender for 30 years. I have specialized in SBA 504 lending for the past 14 years. Over that time, I have structured, processed, and funded over 380 SBA 504 loans, with the SBA loan portion totaling over $237,000,000. Recently, I took on the Central Michigan market as well, and I look forward to working with lenders and borrowers that we have not worked with historically. My experience within the industry is beneficial for lenders who work with GLCF. This allows me to provide the best structure for your borrower along with providing a positive experience from application through funding. In addition to myself, GLCF has a great team of underwriters, closers, and portfolio management personnel that provide an excellent experience from the beginning throughout the life of the loan." said Bradd.
Bradd has lived in Michigan his entire life, growing up near Lansing, Michigan, and finally settling in Grand Rapids for the past 37 years. Bradd graduated from Olivet Nazarene University with a degree in Business. He worked for three area banks in Commercial Lending before joining GLCF in 2010. Bradd currently resides in a small community just south of Grand Rapids with his wife Cindy. Outside of work, Bradd enjoys hunting, golfing, boating, and spending family time with his wife and three grown sons.