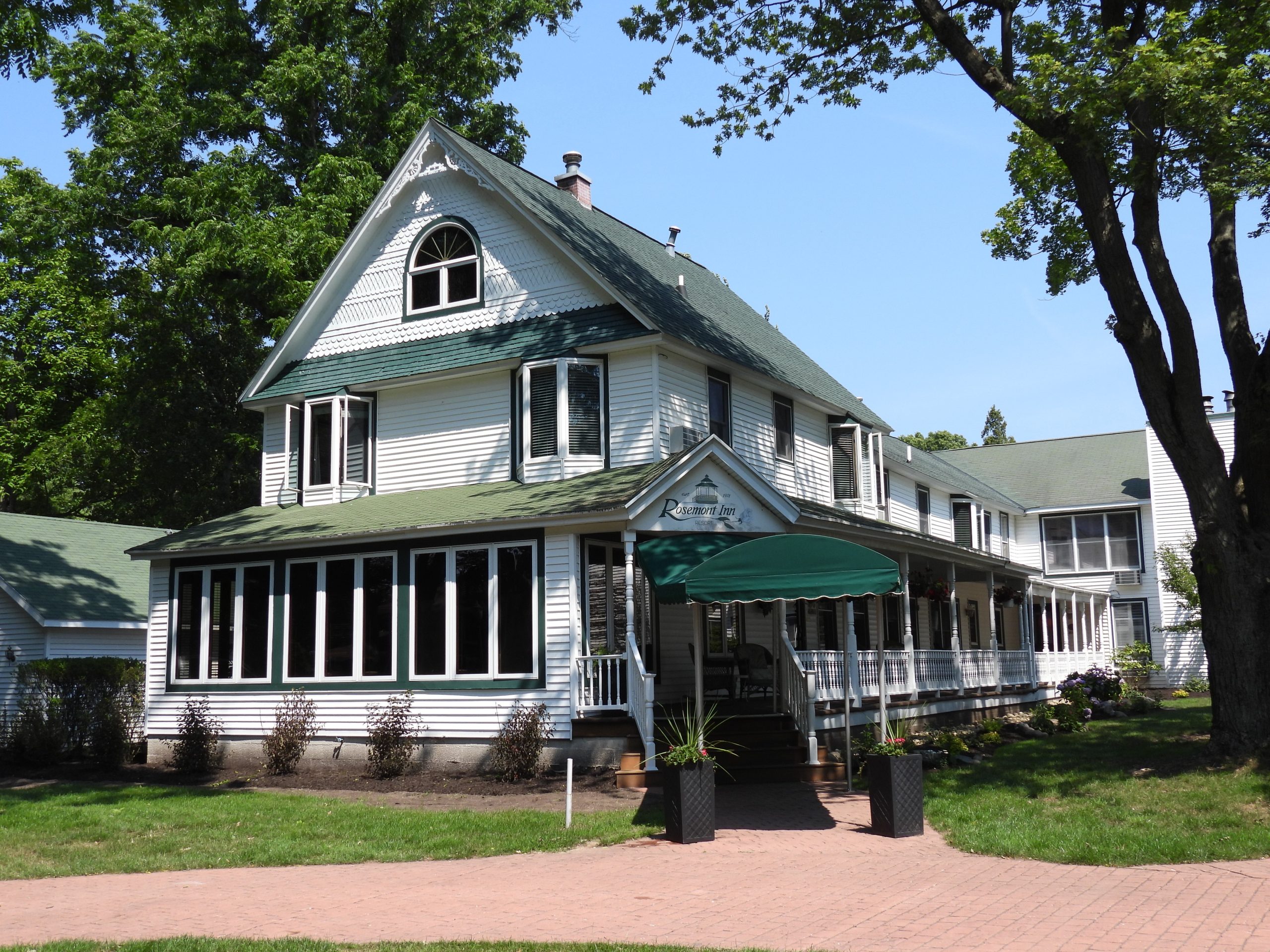 83 Lakeshore Drive
Douglas MI 49406
Jobs expected to be created: 3
Kerry and Tammy Cunnion were enjoying a family vacation in the beautiful lakeshore town of Douglas, Michigan when an opportunity of a lifetime seemingly fell into their laps. While taking a scenic drive around the area before heading back to their home in Chicago, the Cunnions came across a charming inn for sale that inspired them to take a leap of faith and start a new journey. Within no time at all, they were the proud owners of The Rosemont Inn. The building has been in business for 120 years, starting out originally as a boarding house and later being converted into an inn in the mid-1950s. Situated across from Douglas Beach and only two miles from Oval Beach, the fourteen-room bed-and-breakfast is a well sought-after vacation destination.
Prior to Kerry and Tammy taking ownership in June of 2021, the last renovations to the space had been done nearly twenty years ago, making the couple eager to get started on their own improvements. A few of these enhancements include the renovation of the old gazebo and the addition of a new patio out front, a brand new breakfast area, the installation of couples showers, new paint and flooring, and many more upgrades. The inn also has a heated pool and spa area, complimentary bicycles, daily breakfast, fireplaces, and views of Lake Michigan in each room, as well as plenty of summer and winter activities, making it a year-round destination.
"If you have driven along Lakeshore Boulevard, you know how spectacular it is along there. It is really something great for folks when they come here," Mrs. Cunnion shared. "They show up and look drained from all that is going on in their lives, and within a weekend, you can see everyone become so relaxed just by coming here."
One of the biggest draws for the Cunnions to take on this new challenge was the idea of living on Lake Michigan—a dream of theirs—and getting to enjoy such a beautiful area. While they had no previous experience in the hospitality industry, they were able to use some of their personal talents to aid in their success, while also involving their two children as well. Their daughter is studying marketing and communications and was able to assist them while they started up, while their son, a previous employee of Marriott and Fairmont in Chicago, used his expertise to help with initial advising. From the moment the couple took ownership and throughout the entire summer, the inn operated at full capacity, and continues to stay open year-round as they are finishing up the final bit of their renovations. Having lived and raised their children in the hustle and bustle of Chicago for thirty years, Kerry and Tammy are having a wonderful time living amongst the tranquility of Douglas, and are enjoying the warmth of the community.
To purchase the inn, the Cunnions worked together with Macatawa Bank and Great Lakes Commercial Finance (GLCF), securing an SBA 504 loan. When asked about her experience working with GLCF, Tammy explained, "I think everything went really well. It was very smooth and we really understood what they needed from us, and it was well explained. We had great folks to work with and they made it as smooth and uncomplicated as possible. I have nothing but great things to say."
Mrs. Cunnion further explained that although it can be intimidating to think about all the details that can come with taking ownership of an inn, GLCF helped make the undertaking comprehensible and straightforward, allowing them to enjoy the loan process with ease. With eighty-nine perfect five-star reviews combined from Google and Facebook, The Rosemont Inn is thriving and is the perfect space for events, meetings, wedding parties, and relaxing getaways. The Cunnion family is grateful for GLCF's assistance in making their business come to fruition and looks forward to the many adventures that lie ahead. For more information about The Rosemont Inn, visit their website at www.rosemontinn.com.