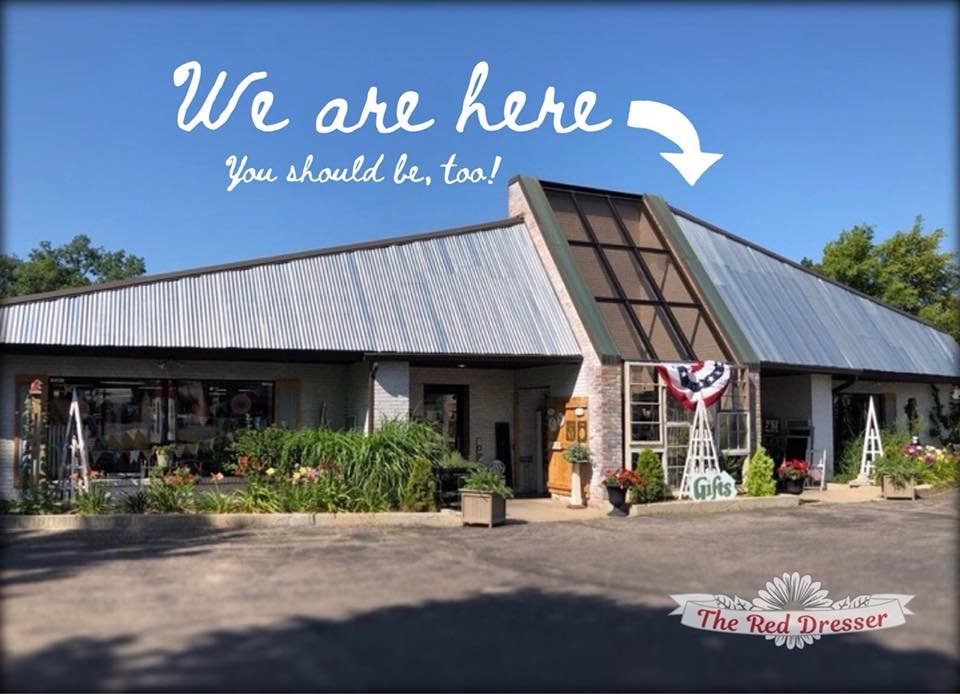 956 W. South Airport Road
Traverse City, MI 49686
Jobs expected to be created: 1
The Red Dresser, a year-round vintage market filled with specially selected and curated items, is a must-visit when exploring the beautiful lakeshore town of Traverse City, Michigan. Owned and operated by Tammy Simerson, and currently features over 30 vendors and offers an ever-changing collection of painted furniture, home accessories, and unique gift items created by local artisans. They also buy vintage furniture that can be refurbished, old windows, old doors, porch posts, railings, and decorative trim. Additionally, The Red Dresser features a Barn Market event that takes place at the Northwestern Michigan Fairgrounds each Spring. They host numerous vintage purveyors, local makers, food trucks, and live music. It has been a wonderful addition to the Traverse City community.
This journey began in 2007 when Simerson drew inspiration for the business idea and found a small storefront in the back of a building. Years later, after the tremendous growth of the business, Tammy found a much larger building for rent and decided it would be the perfect home for The Red Dresser. She agreed with the Landlord that she would purchase the building in five years. Even in the midst of a pandemic, Tammy succeeded in purchasing her dream building for her business with the help of Jeff Rademacher of State Savings Bank and Kelly Schramski at GLCF. Securing a 504 loan allowed her to take advantage of a 10% down payment and the ability to lock in her interest rate for 20 years.
"Financing with the help of the SBA 504 loan program was the only way I was going to be able to move forward with growing my business," Tammy shared.
The journey of purchasing a property can prove to be a challenging undertaking. The pandemic's repercussions slowed the process, but with GLCF's help, Tammy still meet her goal of purchasing the building within her five year window.
"GLCF was amazing. The woman that I had the most interaction with was Michelle Vargo, and she rocked. I felt so comfortable asking her any questions," Tammy expressed. "You know, I'm a small business owner. I'm not high finance, and I'm not used to doing these kinds of loans. Michelle made it so easy to ask her anything."
The Red Dresser has been in business for 15 years and continues to grow and flourish. Tammy was able to start from a very small location in the back of a building and work her way up to purchasing her very own space. For those wanting to start their own small business, Tammy offered some words of advice and encouragement:
"It is tough opening a small business. You need to make sure that you talk to other small business owners and do your own research and due diligence. You will spend way more time with your business than you think, so make sure you love it!"
Tammy is beyond grateful for Great Lakes Commercial Finance and their assistance with the loan process and she looks forward to The Red Dresser's continued growth for many years.
To learn more about The Red Dresser, please visit them at 956 W. Airport Road, Traverse City, MI 49686 or thereddressertc.com.