If you're a lender or a small business owner, you've probably heard of the SBA 504 loan program.
Great Lakes Commercial Finance (GLCF) is an accredited lender authorized by the U.S. Small Business Administration (SBA) to administer the 504 loan.  We partner with banks and credit unions all over the State, offering a unique 50/40/10 loan structure that benefits small businesses.  GLCF is here to guide you and help determine if the 504 loan is the right fit for your business by answering some basic questions.
WHY should I consider the SBA 504 loan program through Great Lakes Commercial Finance?
Because of this unique 50/40/10 structure, SBA 504 borrowers can:
Finance up to 90% of their total project costs, which helps preserve working capital. Additionally, this improves cash flow with the 504's 10, 20, or 25 year terms.
Terms are longer than conventional financing options, allowing borrowers to spread out their payments and increase their cash flow for day-to-day operations.
Unlike conventional loan programs, interest rates, which are typically below market, will remain fixed throughout the term of the loan, saving borrowers thousands of dollars.
The program also allows the borrower to finance their fees, so there are very little out of pocket costs.
The 504 loans will allow real estate and equipment to be financed together to take advantage of the longer loan terms.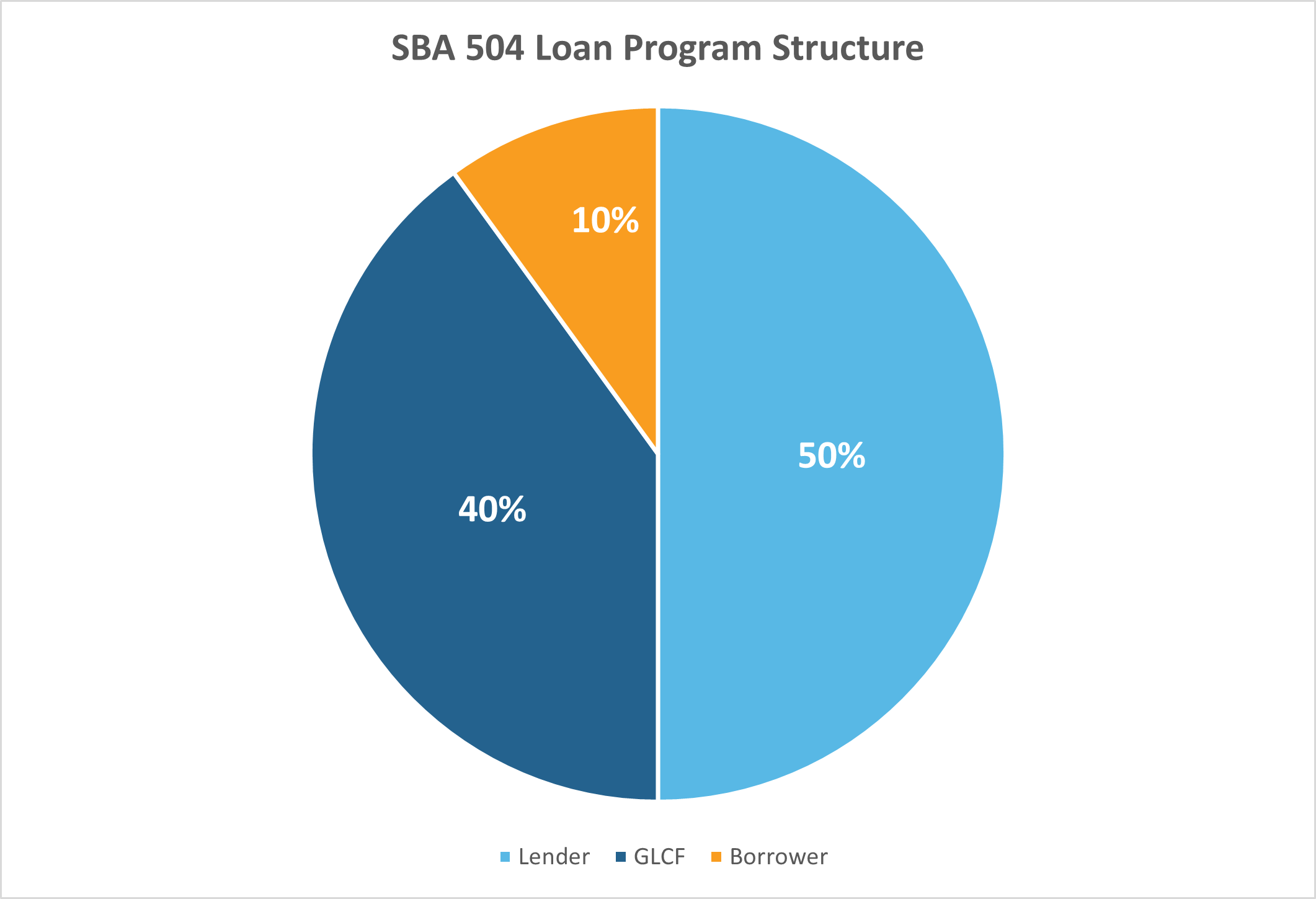 WHAT can the 504 loan help me finance?
The 504 loan can help for-profit companies finance fixed assets, including:
Real estate acquisition, construction, renovation, or expansion (including the purchase of land)
Eligible Soft Costs (appraisal, environmental, and other professional fees)
Land and site improvements
Purchase and installation of new equipment or machinery
Refinance of commercial real estate, eligible fixed assets, and allows for "cash out" for operating expenses
WHO should I contact?
GLCF partners with banks and credit unions all over Michigan to deliver small businesses the 504 loan.  If you contact your commercial lender first, be sure to tell them you are interested in the 504 loan program.  You can also reach out directly to our office at (616) 459-4825, and we can help you find a lender if you do not currently have one.
WHEN should I reach out?
The earlier the better, so all parties are on board from the very beginning.  This allows us to work together to ensure your project is eligible and we are moving things along.  Having everyone on the same page from the start will help the process go as smoothly as possible.
To learn more about the SBA 504 program, please call our office at (616) 459-4825 or visit our website at www.glcf.org.